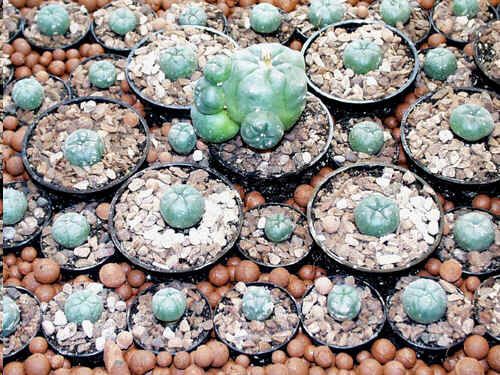 Details
The members of this genus, the "crest-bearers," are small, globose, or depressed globose cacti that grow from comparatively large, carrot-shaped taproots. The stem is about three inches in diameter but stands no more than two inches above the ground. Stems may be single or may branch from the base to form large clusters. Surfaces are blue-green and often glaucous. The plants have no spines after the early seedling stage. The ribs are broad and flat. The areoles are small and round with long white to yellowish wool that often persists, and the flowers are small, bell-shaped, and varied in color. In this genus the ovary and fruit are entirely naked, and the fruit remains always fleshy. The stems are ribbed. Monomorphic areoles produce the flowers from the apexes of young tubercles rather than from the axils. Peyote belongs to this genus. The main species which are currently recognized are Lophophora diffusa, Lophophora fricii and Lophophora williamsii (Peyote). Lophophora diffusa is a separate species from the known Lophophora williamsii and is found at a few locations in the Mexican state of Quer'taro. It is rather scarcely found, compared to Lophophora williamsii (Peyote). Lophophora is a rather slow growing cactus species, native to Central Mexico and Texas. Lophophora williamsii, Lophophora diffusa and all other species and habitat variations grow in a great variety of locations within the Chihuahua desert. It can be found in the shade of bushes or in full sunlight on open spaces. Unfortunately Peyote plants are getting scarcer in nature. The best soil mix for adult Lophophora plants is: One part clay, one part regular potting soil (without peat), four parts coarse sand, three parts fine grit (1-3 mm), and a teaspoon of lime.
More Information
More Information
Common name
Lophophora Mix
Species
Lophophora ssp.
Germination
Peyote seed is not too difficult to germinate. The seedlings will need some shade. Too much light will induce the Peyote seedlings to turn red to brown. When the seedlings get a shortage of light, they will turn bright green to yellow and will grow too tall (etiolating). It may take six to eight years for Lophophora species to reach a diameter of an adult cactus.

Use a soil mix of river sand with regular potting soil and 1-3 mm grit (1:1:1). Make sure that your sowing medium is very loose and airy. Take a fist full of the mix and make a fist with it, when you open your hand the mix must loosely fall apart. If it sticks together like a ball, you should add some grit to loosen it up. Use 1 clean container per species of cactus. Fill the plastic containers for 50% with sowing medium and slightly press it down, then fill up to 1 cm under the edge of the container. Add 0,5 mm of (sterilized) grit on top of the medium. Put them in a watertight tray filled with water. Seal the tray with a plastic bag or a large lid and let the containers soak up the water for about two hours. Take them out and let the excess water drip out. Fill them to the top with about 0.5 cm of grit (1-3 mm).

Divide the seeds equally on the top layer of grit. Place one species per container. Slightly press the seeds in the grit, making sure to do it in a sterile way, and then identify the plant. Put each container in plastic bags, with the opening of the bag facing upward. Close the bags and place them at 23øC, under medium light conditions (not too bright, no sun). Most seeds should germinate in about 14 days but it varies. After germination carefully open the bags to see if all seeds (or most) are germinated, if so, make 2-4 small holes to let the seedlings slowly adjust to dryer air. It is very important to check them at least once a week. Each week 2-4 new holes must be made into the bags and after 2 months, remove the bags completely. Without the bags the soil dries fast so make sure to let the pots absorb some warmish water. Do not let them dry but also do not keep them soaking wet after the seeds have germinated. Transplant the seedlings if the mix dries out or if there is not enough room or an infection occurs. As the seedlings grow try to increase the light intensity but be careful for burning because young cacti and succulents are very sensitive.
Price View
Price Range
GERMINATION
Click on More information tab to get germination instructions (may be not available yet).
100% PAYMENT SECURE
We ensure secure payment