Drosera Ordensis Seeds (Petiolaris-Complex)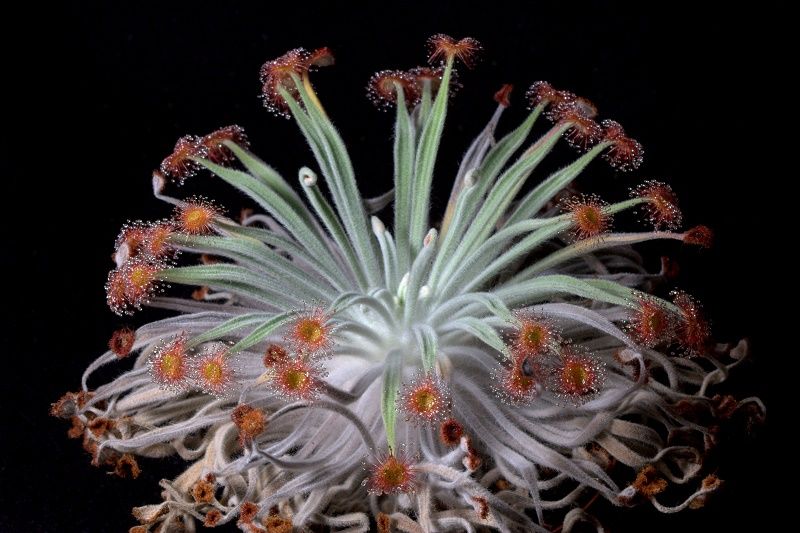 Details
DroseraOrdensis inhabits sandy soils near sandstone outcrops in the northeaster tip of Western Australia near Kununurra and Pago and in the neighboring region of the Northern Territory in Keep River National Park. Drosera Ordensis is a perennial rosette-forming herb of about 8-15 cm in diameter. Drosera Ordensis forms clumps witch can be up to 30 cm across, of stemless or nearly stemless rosettes. Each plant has numerous leaves, which, as typical for the complex, consist of a long, hairy petiole supporting a nearly round lamina. The lamina is densely studded with stalked mucilagenous glands, which serve to attract and trap arthropod prey, which is subsequently digested and absorbed by the plant as a source of nutrients. During the dry season, the plant produces smaller somewhat dormant leaves which are protected by their dense covering of silvery hairs. Drosera Ordensis flowers from December through April. The flowers form on a crowded raceme that will open one at a time. The five-petaled flowers can be pink to nearly white and are about 1.5 cm in diameter. Hardiness zones: 9(-5c/25f). This plant does not support frost. Drosera Ordensis like a well drained compost that could be composed of 2 parts sand for 1 part turf. They need to be kept at a temperature of about 18-30 C. They need a lot of light and can be grown in a terrarium or a sunny greenhouse, heated in winter. The plant should be placed in a tray of water. If it goes dry, the plant will go into dormancy as in the wild during the dry season.
More Information
More Information
Label
Drosera ordensis
Common name
Sundew
Family
Droseraceae
Genus
Drosera
Species
Drosera ordensis
Germination
Drosera ordensis seeds will usually germinate in 30-90 days. The seeds will only germinate with light. Sow Drosera ordensis seeds on the surface of a Peaty seed sowing mix at about 15øC. Some people have been having great germination of petiolaris hybrids using milled long fibered Sphagnum, still getting germination eight weeks after the first seed germinated, while growing them on a south facing windowsill. Germination can take from 2 weeks to 2 years! Please be patient, you won?t regret it.

Once germination is noted, plants should immediately be placed close beneath fluorescents. Be wary of exposing the seedlings to direct sunlight too quickly, although this is to be encouraged over time, along with a gradual lessening of humidity. Leave the seedlings sealed for a week after germination, and then crack the seal for longer and wider periods over time. Once the bag can safely remain totally open, transfer the pot to tray watering and begin normal culture under strong light indoors, or direct sun outdoors (with appropriate screening until acclimatization is reached). The germination can take longer. Be patient!

Important :

In winter (October-April), the plants must be placed close to a window (l5 to 20 cm) and at the same level. Keep the temperature between 15-20 øC. When the frost ends (May-October), you can leave the plants outside and place them on an east oriented windowsill. In summer, with a temperature from 20 to 30 øC, they can stay anywhere outside.

Petiolaris Complex:

A group of tropical Australian species which live in constantly warm but irregularly wet conditions. This group has developed special strategies to cope with the alternately drier conditions. Many species, for example, have petioles densely covered in trichomes, which maintain a sufficiently humid environment and serve as an increased condensation surface for morning dew.
Price View
Price Range
GERMINATION
Click on More information tab to get germination instructions (may be not available yet).
100% PAYMENT SECURE
We ensure secure payment