Pinus Parviflora Seeds (Japanese White Pine Seeds)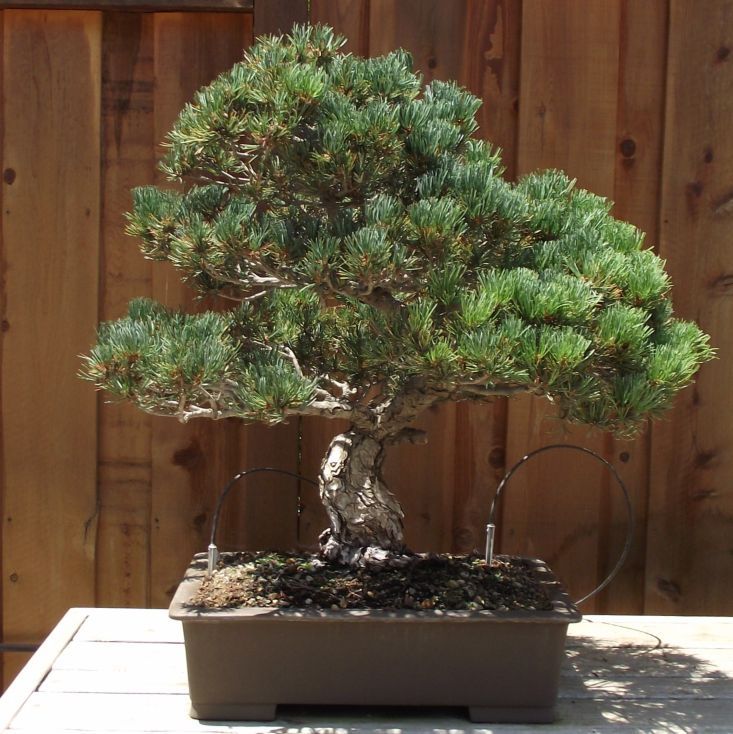 Details
The Japanese white pine is an evergreen conifer native to Japan. This beautiful specimen is recognized as one of the most beautiful of the Pine family. One of the classic bonsai trees and probably the most popular among bonsai collectors. The Japanese White pine is suitable for most bonsai styles. If left to grow in the wild, it reaches 25 meters tall. Pyramidal with slender, short 1 to 2.5 inch long, blue-green needles; silvery underside. Needles are borne in clusters of 5. They are densely whorled, giving branches a tufted appearance. Wide spreading branches, dense in youth, becomes flat toped with age. The trunk is massive, straight, sometimes split into two or more stems. The young bark is smooth and gray, aging to a dull gray, rough, longitudinally fissured, peeling off into scales. Branchlets are gray-green to yellow-brown. The flowers are yellow. Flowers in May, with cones ripening in October of following year. The flowers are monoecious, individual flowers are either male or female, but both sexes can be found on the same plant, and are pollinated by Wind. The cones appear in clusters of 20-30, crowded on lower part of new shoots. They are cylindric, red-brown and green coloured when young, 5-6 mm long, 3 mm wide, with numerous stamens. The cones persist for many years. Hardiness zones 4-7, (-15§C,5§F/ -32§C,-25§F) in Winter. It grows well in full sun and must be protected from frost. It cannot grow in the shade. The plant prefers light, sandy and medium, loamy soils, requires well-drained soil and can grow in nutritionally poor soil. The plant prefers acid and neutral soils. It requires dry or moist soil and can tolerate drought.
More Information
More Information

| | |
| --- | --- |
| Label | Pinus parviflora |
| Common name | Japanese White Pine |
| Genus | Pinus |
| Species | Pinus parviflora |
| Germination | First, scarify the seeds. For faster germination, soak the seeds in slightly hot water for 24-48 hours, followed by 3 months cold stratification before sowing in your soil mixture. Keep damp soil, not soaking wet. Keep pot in warm situation 20øC/68øF, 24øC/75øF. Germination can take several months. It can be more depending on their degree of unbroken dormancy, don't give up. |
| Scarification / Stratification | Seed coats may be so hard that they are impermeable to water. They need to be scratched or broken using a knife or sandpaper, in order to germinate. Chip the seeds with a sharp knife or make a few swipes with a sharp edged file or use sandpaper to allow moisture being more readily absorbed. |
| Price View | Price Range |
GERMINATION
Click on More information tab to get germination instructions (may be not available yet).
100% PAYMENT SECURE
We ensure secure payment