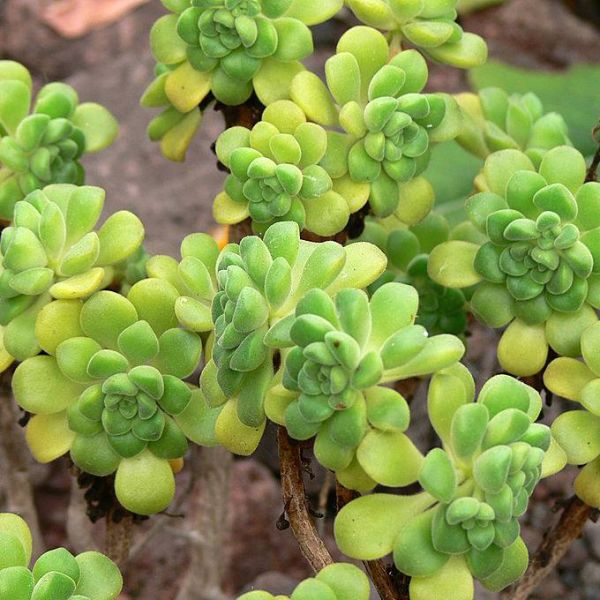 Details
Aeonium, a family of succulent plants counting about 35 different species. The aeonium is native of the Canary Islands and North Africa. It measures between 0.15 and 1 meter and lives in subtropical regions. Aeonium comes from a Greek word that means ?eternal? since this plant is an evergreen. The plant is made up of a single rosette of leaves or a bunch of branches each holding one or more rosettes. This evergreen foliage is a water reserve for the plant. The flower grows in the middle of the rosette. Not each rosette will carry a flower. A bunch of little flowers can grow in the middle of a big rosette. These flowers can be white, yellow, pink or red. They grow during spring and summer. When the flower dies, its rosette dies too. If the rosette survives, the dead leaves need to be cut off. Hardiness zones 9-11 (-5øC/25øF,4øC/40øF) in winter. The aeonium doesn?t like cold weathers. Only some species can endure frost. In general, keep them at a minimum of 10øC. Aeoniums need a fresh environment. The aeonium loves the sun. It can handle a full sun exposure, but a partial shade is ideal. The plant needs light and hotness. Watering should be done only when the soil begins to dry. The plant can resist to a little drought.
More Information
More Information

| | |
| --- | --- |
| Common name | Aeonium Mix |
| Species | Aeonium ssp. |
| Germination | Use a mix of soil and sand. Aeonium needs a well drained acid or neutral soil. Water your plant once a week, making sure the soil is dry before watering again. The colder the climate, the less water it needs. Place your plant under a good source of light. It is slow to germinate, don?t get discouraged. |
| Price View | Price Range |
GERMINATION
Click on More information tab to get germination instructions (may be not available yet).
100% PAYMENT SECURE
We ensure secure payment