Helianthus Earthwalker Seeds (Sunflower Seeds)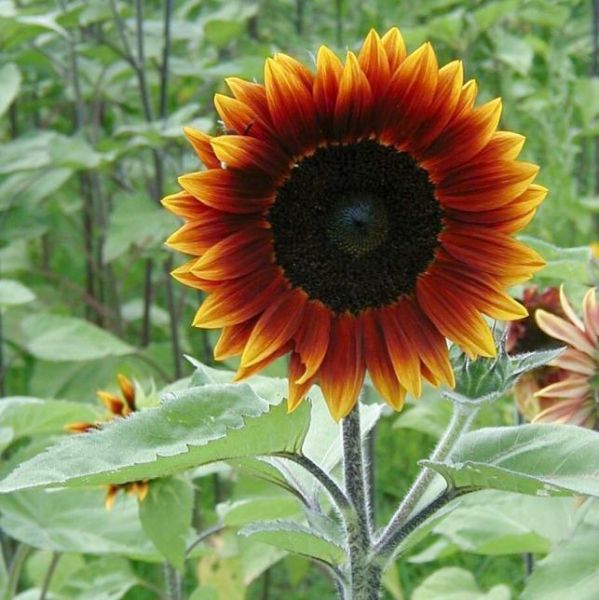 Details
The Helianthus Eartwalker is a good quality plant that produces many heads, and is ideal for border displays. This hardy annual, flowering the same year, will create a mixture of charming Sunflowers. This specie will grow up to 1.8-2.7 m (6-9 ft). These sunflowers attracts butterfly, and are a sensational as cut flowers. They are not only beautiful but they also are edible! A fantastic mix of solid and bicolor blooms, in an array of earth tones with large dark discs that are surrounded by petals in a range of orange, gold, burnished copper, red, mahogany, brown, and terra-cotta also including the exquisite deeper chocolate-brown shades. The vigorous stem of this branching variety, with multiple sides? shoots, guarantees a vibrant summer display. . The big flowers are 8-10 in. across. Edible seeds harvested from grown plants are edible and can be used as decoration or to feed the birds. The Helianthus Earthwalker blooms from mid-late summer to autumn. Hardiness zones : 3-9(-37c/-35f, -5c/25f). The Earthwalker prefers a sunny position and well-drained soil. Keep the plants moist until well established. Some plants may require staking in exposed location.
More Information
More Information
Common name
Sunflower
Species
Helianthus annuus
Cultivar
Earthwalker
Germination
Sow the seeds thinly, at about 12mm « in. deep, 30 cm apart in well cultivated soil raked to a fine tithe. Germination usually takes around 21 days. Once the seedlings are large enough to handle thin the plants to 30cm (12 in) apart. Alternatively, you can sow indoors in late winter/early spring for earlier flowering. Sow the seeds individually, into 7.5 cm (3 in) pots at a temperature around 20-30C (68-86F). Once they are well grown, gradually acclimatize them to outdoor conditions, before planting out, after all risk of frost.

Notes: What is usually called the flower is actually a head (formally composite flower) of numerous flowers (florets) crowded together. The outer flowers are the ray florets and can be yellow, maroon, orange, or other colors, and are sterile. The florets inside the circular head are called disc florets. The disc florets mature into what are traditionally called "sunflower seeds", but are actually the fruit (an achene) of the plant. The true seeds are encased in an inedible husk.

Sunflowers in the bud stage exhibit heliotropism. At sunrise, the faces of most sunflowers are turned towards the east. Over the course of the day, they move to track the sun from east to west, while at night they return to an eastward orientation. This motion is performed by motor cells in the pulvinus, a flexible segment of the stem just below the bud. As the bud stage ends, the stem stiffens and the blooming stage is reached. Now the stem is frozen, typically in an eastward orientation. The stem and leaves lose their green color. The wild sunflower typically does not turn toward the sun; its flowering heads may face many directions when mature. However, the leaves typically exhibit some heliotropism.
Price View
Price Range
GERMINATION
Click on More information tab to get germination instructions (may be not available yet).
100% PAYMENT SECURE
We ensure secure payment