Mimosa Quadrivalvis Nuttallii Seeds (Mimosa Nuttallii Seeds, Cat's Claw)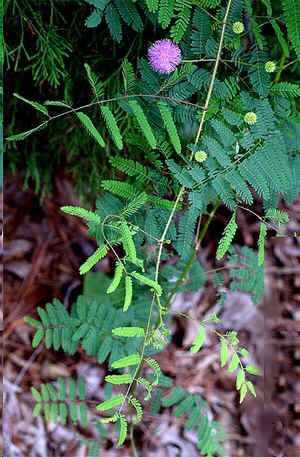 Details
Mimosa Quadravalvis is better known as Sensitive Briar, Mimosa Quadravalvis var. Nutallii, Mimosa Nutallii or Catclaw Brier and belongs to the Fabaceae family and is native of the Central USA. This is an herbaceous perennial legume in the subfamily Mimosoideae. This plant is a trailing semi-woody vine covered with small recurved prickles that can be painful to bare skin! This perennial plant is attractive to bees, butterflies and/or birds. This trailing or creeping vine will only grow up 12-18 in. (30-45 cm) but will spread to 4 feet long. Although very attractive and neat to play with, I wouldn't recommend getting too friendly with the Mimosa Nutallii. The prickles grab on to most anything and are hesitant to ever let go. Despite the prickles, the plant is eaten by many animals and is very nutritious. The juvenile stem is smooth but the older stem with numerous hooked prickles. The 4 feet long ribbed stems are branched, angular and covered with prickles. The smooth-textured leaves of the Catclaw Brier are 12cm long and the petiole and rachis have hook-like prickles. The leaves are alternate and doubly compounded. The leaf blades are divided into 4-9 pairs of small segments, and these are again divided into 8-15 pairs of tiny fern-like leaflets. The leaflets are elliptic and glabrous with a prominent midrib, about 5-6mm long and 2mm broad .The leaflets pairs fold together when they are touched or disturbed. The inflorescence is an axillary globose cluster of +/-70 flowers on a 7cm long peduncle. The tiny fragrant (hyacinth-like fragrance) flowers occur in congested bunches. Before they open, they look much like small green bramble fruits. Each individual flower has five minute pedals and 8-10 conspicuous stamens. When open, the pink-purple stamens form a globelike cluster at the tip of their leafless stalk. Yellow spores can often be seen highlighting the tips. The globes are about 0.5 to 0.75" across (1.3-2 cm). The flowers and fruits appear from May to September. The fruit of the Catclaw Brier is a long, slender, rounded pod that has a covering of dense prickles, typically about 1.2-2.8 in (3-7 cm) long, while the linear fruit is up to 10cm long with prickles and is carinate. Hardiness zones: 9-11(-5c/25f, 4c/40f). Mimosa Quadravalvis plant like to be in full sun. This plant is not particular about the soil. It is found in the glades, open woods, thickets, prairies, roadsides and more. It is known to be very nutritious for livestock, who will seek it out. On rangeland, its absence can also be a good indicator of overgrazing.
More Information
More Information
Common name
Sensitive Briar, Cat's Claw
Species
Mimosa quadrivalvis
Germination
Mix the Mimosa Quadravalvis seeds with equal amounts or more of damp sand, vermiculite, or other sterile media. Place the mixture in a labeled, sealed plastic bag and store in refrigerator (33?38øF). Two months of this cold storage before planting is normally required to break the dormancy of these seeds. Some seeds may sprout in the storage bag if moist stratified too long. If sprouting occurs, plant the seedlings immediately in a good potting soil.

Another method of breaking dormancy for species requiring moist stratification is to sow seeds outdoors in the fall so they may over-winter. Seeds should be scarified before planting to ensure germination. Non-scarified seeds will take 1 year or more to germinate. Sow seeds about 1/4 inch deep in late summer or early fall. Seeds planted in late spring or summer might not give rise to plants that flower that season.
Price View
Price Range
GERMINATION
Click on More information tab to get germination instructions (may be not available yet).
100% PAYMENT SECURE
We ensure secure payment