Nelumbo Lutea Seeds (American Lotus Seeds)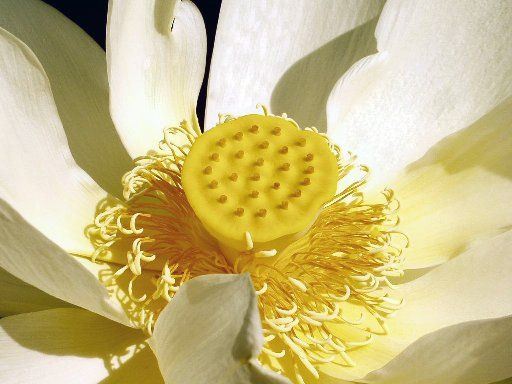 Details
Nelumbo lutea or the American Lotus can be found in California and throughout the Eastern half of USA and Canada. American lotus occurs in quiet waters in ponds, lakes and the edges of slow moving streams and rivers; as deep as six feet. Nelumbo lutea is a perennial water plant that has large, spongy rootstocks called rhizomes, in the mud beneath water. The leaf stems arise from the rhizomes and each supports a single round leaf up to 2 feet or more in diameter. The leaves are dull-satiny bluish green on top and pale green with prominent veins underneath. They are covered with minute hairs and repel water. The leaves may float flat on the surface or, if the water is lower, they stand above the water and the margins tend to rise above the center, creating a funnellike effect. The showy pale yellow flowers have many sepals and petals and are borne singly on long, stiff stalks that arise directly from the rhizomes. The flowers are quite large, reaching 6 to 8 inches across and are held 12 to 20 inches above the surface of the water. It blooms from mid Summer to late Summer/early Fall. The distinctive flat-topped seed pods look like showerheads and are often sold as ornamental items and used in dried flower arrangements. Hardiness zones 4-11, (-32øC/-25øF, 4øC/40øF) in Winter. Winter hardy as long as the roots do not freeze. Loves full sun but can grow in partial shade. It needs very high moisture. The Lotus grows best in rich soil with 1/2 inch of rinsed gravel on top of the soil. The pot is completely submerge in calm freshwater.
More Information
More Information

| | |
| --- | --- |
| Label | Nelumbo lutea |
| Common name | American lotus, yellow lotus and water-chinquapin. |
| Species | Nelumbo lutea |
| Germination | First, scarify the seeds until there is a small amount of white color showing and place the seeds in water. The American Lotus seeds should swell over the next few days and sprout within a week, growing quickly for the next couple of weeks. There are enough nutrients in the Nelumbo lutea seeds to support the plant for 30 days, but it should be planted as soon as practical. Plant in a pot with plenty of room for root growth below and around the seeds, at least 4 inches and place in water with the top of the pot between 12 and 18 inches below the surface of the water. Leaves will appear within a month and the plant should bloom in the second growing season. |
| Scarification / Stratification | Seed coats may be so hard that they are impermeable to water. They need to be scratched or broken using a knife or sandpaper, in order to germinate. Chip the seeds with a sharp knife or make a few swipes with a sharp edged file or use sandpaper to allow moisture being more readily absorbed. |
| Price View | Price Range |
GERMINATION
Click on More information tab to get germination instructions (may be not available yet).
100% PAYMENT SECURE
We ensure secure payment