Arisaema Speciosum Seeds (Big Leaf Jack, Himalayan Giant)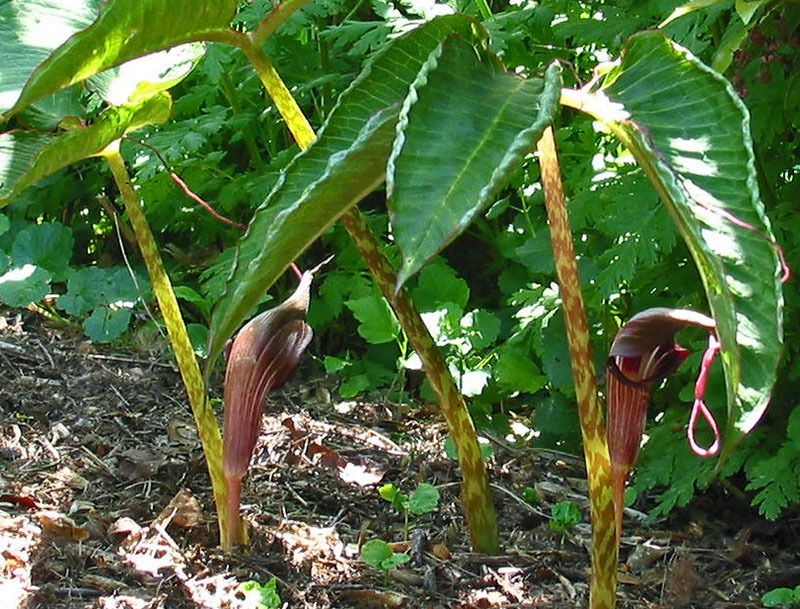 Details
Arisaema speciosum, the Hooded Beauty of the Cobra Lilies, is a species measuring up to 60 cm. It is native from the Himalayas. It is very hardy, easy to grow and early to emerge. In Latin, speciosum means ?of a beautiful aspect?. All the parts of this plant are toxic. The thick and fleshy stalk emerges in early June, adorned by a single tropical-looking palmate leaf near the top. As the leaf unfurls, the pitcher that tops the stem opens to reveal a dark and mysterious flower, with a small curly tongue. The flower is of a striking dark purple color with white-pinkish stripes. The flowers are dioecious, individual flowers are either male or female, but only one sex is to be found on any one plant. Hardiness zones 5-9, (-26øC/-15øF, -5øC/25øF) in winter. Enjoys a moist, fertile, well-drained, neutral to acidic soil in a cool, shady site. The plant grows well in mid to partial shade. It is best in a warm environment. Water regularly; do not overwater.
More Information
More Information

| | |
| --- | --- |
| Common name | Cobra Lily |
| Species | Arisaema speciosum |
| Germination | First, the seeds require 2 months of cold stratification. Arisaema seeds can be planted in a pot of potting soil, indoors. Keep damp soil, not soaking wet. Keep pot in warm situation 20øC/68øF, 24øC/75øF. Arisaema seeds will usually sprout within 4-6 weeks and will proceed to grow for up to 2-4 months. At this time, they will appear to slowly turn yellow and die. They are only going dormant. After a cold period, they will again resprout. Germination can take longer depending on their degree of unbroken dormancy, don't give up. |
| Scarification / Stratification | This will break their dormancy. It creates a cold and moist environment for the seeds. Mixed in seeds with slightly moistened vermiculite or peat, only damp in a ziplock bag. Close zip bag shut and store it in the salad crisper compartment of your refrigerator. If any seeds begin to sprout during the cold stratification, simply remove the seed and plant. |
| Price View | Price Range |
GERMINATION
Click on More information tab to get germination instructions (may be not available yet).
100% PAYMENT SECURE
We ensure secure payment