Cortaderia Selloana White Seeds (White Pampas Grass Seeds)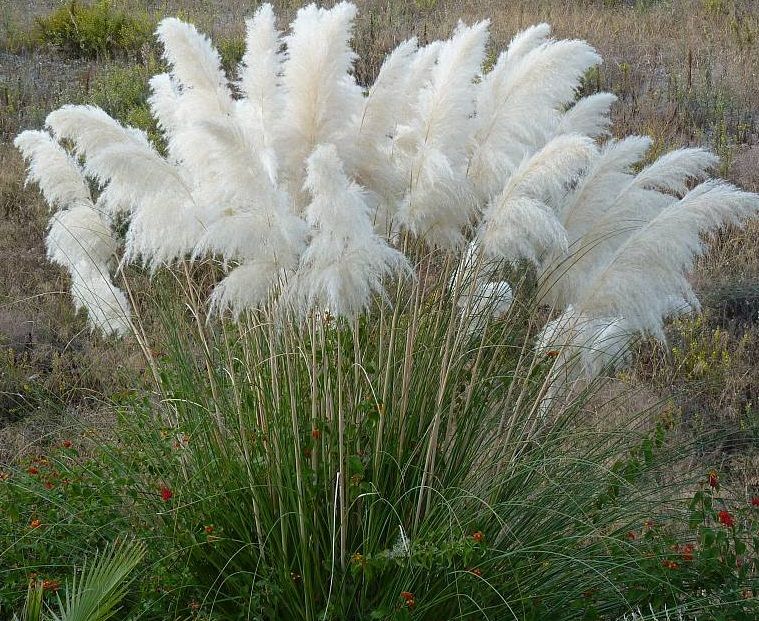 Details
Cortaderia Selloana White has large stalks that are topped with soft plumes soaring above them. Amazing as a background or as an accent plant in corners. Grows to an average height of about three feet, with a height of 6-10' tall with plumes. Plumes start mid-summer and last through winter. An elegant addition to your yard. Hardiness zones : 3-10 (-37c/-35f, 1c/35f) Treat them as tender perennial in zones 3-5, and as hardy in zones 6-10. The Pampas grasses are beautiful plants that require minimal care. They grow best in full sun and prefer well-drained soil that is consistently moist. Instead of cutting back the foliage in the fall, wait until the following spring. It will act as its own protective mulch through the winter months. The plant will resist momentary dryness, with the wind and cold (up to -20øC), but the cold mixed with moisture can be fatal for this plant. Be very careful and wear gloves and long sleeves when handling this grass. It has very sharp edges!
More Information
More Information

| | |
| --- | --- |
| Common name | White Pampas Grass |
| Species | Cortaderia selloana |
| Cultivar | White |
| Germination | Do not cover the Cortaderia Selloana seeds with the germinating mix; press the seeds into the surface only. It may be helpful to mix the seed with a very fine sand to make it easier to sow. Water from the bottom so that the seed will not be washed away. Sow the Pampas seeds in flats, cover the flats with plastic to increase humidity and keep them at 70-74ø F. Maintain an even level of moisture. It is a good idea to start them in pots. The plants can be transplanted when they reach 3 in tall. If you start later than spring, you would need to keep the plant inside for the first winter to protect them from frost. Germination should occur in 10-20 days, but it may take longer. Be patient! Note: If you desire a 2 - 3 foot clump, use 100 seeds in a 2 ft diameter area when planting. From seed, it will take 2 or 3 years to bloom, but your patience is richly repaid by long-lived garden performance! |
| Price View | Price Range |
GERMINATION
Click on More information tab to get germination instructions (may be not available yet).
100% PAYMENT SECURE
We ensure secure payment