Iris Germanica Hybrids Mix Seeds (Iris Barbata Seeds, Bearded Iris Seeds)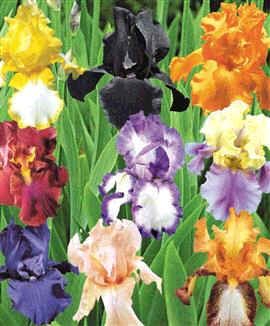 Details
Iris germanica hybrids, also named the German Iris, Iris barbata and the Bearded Iris, are herbaceous perennial plants to 2- 4 feet tall. They are native to Central and Southern Europe. It is a widely cultivated plant and many cultivars exist. The flowers are consisting of 3 sepals and 3 petals. The plants can vary somewhat in size and greatly in flower color. Flowers can range from white to yellow, orange, pink and red to violet. Blooms from April to June. The orchidlike flowers of Bearded Iris have six petals as do all types of Iris. The beards are the hairs that grow in the center of the falls. A healthy flowering stalk produces 9 to 12 buds on short side branches, and each flower lasts about three days. It develops aerial stems of more then 60 cm tall. The gray-green leaves are long, flat, and pointed, and they overlap in a fan shape, up to 40 cm long and 3 cm broad. The plant spreads by means of its modified stems, rhizomes, which are located below the soil surface. Hardiness zones 4-10, (-32øC/-25øF, 1øC/35øF) in Winter. They grow best in fertile soil exposed to full sun. The rhizomes are barely covered with soil. If planted too deeply they produce leaves but no blooms. Water regularly; do not overwater.
More Information
More Information

| | |
| --- | --- |
| Common name | German Iris |
| Species | Iris germanica |
| Cultivar | Hybrids Mix |
| Germination | First, you can scarify the seeds to try to speed up germination. For faster germination, soak the seeds in slightly hot water for 24-48 hours, followed by 3 months cold stratification before sowing, 1/4 inch deep, in your soil. Keep damp soil, not soaking wet. Keep pot in warm situation 20øC/68øF. Germination usually takes several months. It can be more, depending on their degree of unbroken dormancy, don't give up. |
| Scarification / Stratification | Seed coats may be so hard that they are impermeable to water. They need to be scratched or broken using a knife or sandpaper, in order to germinate. Chip the seeds with a sharp knife or make a few swipes with a sharp edged file or use sandpaper to allow moisture being more readily absorbed. |
| Price View | Price Range |
GERMINATION
Click on More information tab to get germination instructions (may be not available yet).
100% PAYMENT SECURE
We ensure secure payment