Lilium Philadelphicum Seeds (Wood Lily, Wester Red Lily Seeds)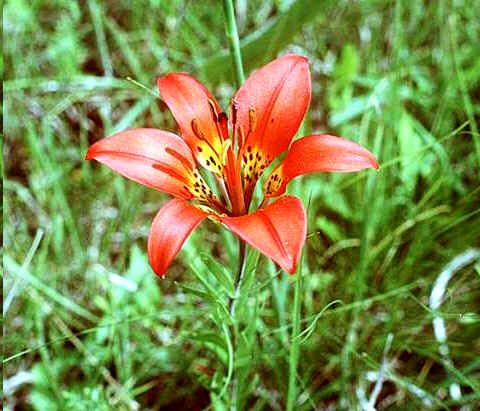 Details
Lilium Philadelphicum is also name: Red Lily, Western Wood Lily, Wild Lily, Wood Lily . The wood lily is native to eastern North America and the tall-grass prairies of central North America, extending to western British Columbia. In northern Ontario, its range extends north to James Bay and west to the Manitoba border, near the Lake of the Woods region. Lilium Philadelphicum is a tall erect perennial herb with stems up to 1.2 m tall, smooth (glabrous), with intense orange to red terminal flowers. The stems originate from a scaly bulb composed of several white fleshy segments clustered around the base of the stem. The starchy bulbs are edible (served boiled). The bulbs are also eaten and dispersed by small rodents. The Cree common name, "mouse root," refers to the fact that voles often store the fleshy bulbs in their burrows. The wood lily is the floral emblem of Saskatchewan. Beautiful plant to see in masses. A definite favorite of people and Hummingbirds alike. The leaves are simple, parallel-veined, sessile, glabrous, placed in 1?4 whorls of 3?11 leaves situated near the top of the stem, and with leaves of alternate or seemingly random attachment along the lower portions of the stem. The leaf blades are linear, narrowly elliptic, or ob-lanceolate, up to 10 cm long and up to 2.3 cm wide; tapering gradually to a blunt point at the apex; margins entire. Intense eye-catching orange blooms steal the show in June and July. The bell shape flowers are bisexual, 1?3, terminal, erect, large, and showy, and they grow on 2.5?10.5 cm long stalks (peduncles). The sepals and petals are alike so they are name tepals. The flowers have six, pale to bright orange or red, marked with reddish brown to black spots near the centre of the flower. The tepals are 5?8 cm long, 1.6?3 cm wide, narrowly elliptic to ob-lanceolate, tapering abruptly to the paler, clawed base; the nectar guides, located on the claws, are more well developed and tube?like on the sepals. The six stamens are erect and extending beyond the perianth, with 5?12 mm long maroon anthers, facing outward (extrorse);the pistil is 5?8 cm long, ovary superior, elongate, topped by a long style that ends in a prominent 3?lobed stigma. The dry capsule is oblong, 2.5?7 cm long, and splits open (dehisces) vertically through each of the 3 chambers (a loculicidal capsule); the seeds are flat. Hardiness zones: 3-8 (-37c/-35f, -10c/15f). The Philadelphicum grows in meadows, prairies, barrens, open woods, and roadsides, in areas with calcareous bedrock or sediments. This tree is highly recommended for home landscaping. It prefers cold winters with a good snow cover; it does not like to be in wet or exposed ground over winter. The most important thing is a very well drained soil.
More Information
More Information
Common name
Wood Lily
Species
Lilium philadelphicum
Germination
You can sow the seeds directly in prepared ground or a cold frame, but much quicker results are possible with indoor culture. Any kind of four to six inches deep containers may be used. A light fluffy soil potting mix sold in stores?. vermiculite? they are all are good. Lily seeds are quite large and should be spaced about one-half to one inch apart. If you use sphagnum to cover, sprinkle with a fine spray, but the whole container has to soak thoroughly by setting in a pan of water for several hours. After allowing excess water to drain away, cover the container with plastic or bag, and store in a warm place. The seedlings should start to appear in about fourteen days . . . maybe sooner. Remove the plastic as soon as the first ??hairpin?? shoot shows and place in good light.


Water and light are all the seedlings will need for awhile. When most of the seed has sprouted, you may start feeding about every two weeks with dilute liquid fertilizer? organic fish emulsion is good. These first grass-like leaves are call cotyledons. The true leaves, which are broader, will appear in about four more weeks and in rapid succession from then on. Seedlings grown indoors will need to adjust to the brighter light and cooler temperatures before planting out. A protected place, out of wind and full sun for a couple of weeks, should condition them for their new outdoor life.


Set them directly into a raised nursery bed of carefully prepared soil, spacing the seedlings individually about six inches apart. Watered in with a ??starter solution?? and shaded for a few days, the little babies will grow merrily on as if nothing had happened. For those who hesitate to handle such young seedlings and fear a possible setback if the roots are disturbed, the containers may be placed in the cold frame until fall. Germination can take longer. Be patient!
Price View
Price Range
GERMINATION
Click on More information tab to get germination instructions (may be not available yet).
100% PAYMENT SECURE
We ensure secure payment