Lilium Roter Cardinal Hybrids Seeds Mix (Lily Roter Cardinal Seeds)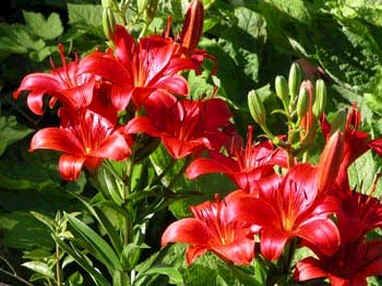 Details
This Lilium hybrid Roter cardinal is a perennial and can reach 60 cm high. It is a striking and tough hybrid Lily. There put on an incredible hot red show in Summer. The flowers are hermaphrodite, they have both male and female organs. Deciduous foliage. Lilies form a bulb. Lily bulbs never go fully dormant, so they must be treated carefully. Hardiness zones 3-7, (-37øC/-35øF, -15øC/5øF) in Winter. Soil well drained, rich in organic matter with a soil pH slightly acidic to neutral. Water regularly; do not overwater and do not allow the soil to dry out. It prefers an open free-draining humus-rich loamy soil with its roots in the shade and its head in the sun. It can grow in semi-shade.
More Information
More Information

| | |
| --- | --- |
| Common name | Roter Cardinal Lily |
| Species | Lilium roter cardinal |
| Germination | This Lilium has immediate epigeal germination, they are easy warm germinators. Plant seeds about 1/4 inch deep and keep moist. A plastic sandwich bag placed loosely over each pot will keep moisture in and cut down maintenance for a few weeks. Place in warm temperature, 70-75øF, germination will start at about 3-12 weeks. Lily seeds are not difficult to germinate indoors and to grow under lights. The most important requirement for the planting mix is drainage while retaining moisture. Use a combination of sand, soil, vermiculite, perlite and whatever organic matter is at hand to produce a light, airy mix which retains moisture but allows good drainage. |
| Price View | Price Range |
GERMINATION
Click on More information tab to get germination instructions (may be not available yet).
100% PAYMENT SECURE
We ensure secure payment