Ricinus Communis (Castor Bean Seeds, Castor Oil Plant Seeds)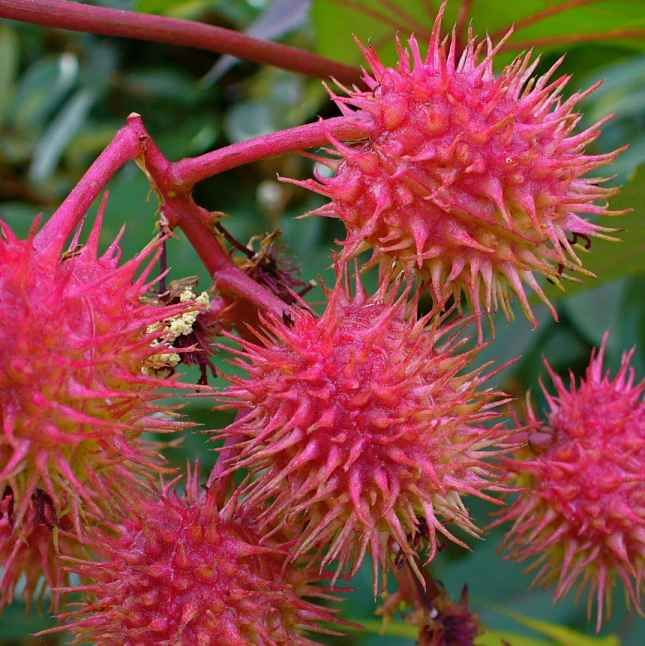 Details
Ricinus cummunis is better known as Castor Oil Plant or Castor Bean. It belongs to the Euphorbiaceous family. The original form, probably a native of Africa or East India. Now grown in all warmer regions. It is a fast-growing, suckering perennial shrub which can reach the size of a small tree (around 12 m). Ricinus communis is a large plant used mainly for spot planting in display beds. It can be use as a solitary subject or in groups in grass or in front of buildings. It is good as a backdrop for flowers, generally used to mask walls and fences, but it is also used in large containers and earthenware urns, where it is very attractive even though it is not as large as when grown in the open ground. Ricinus communis embraces many forms differing in height, coloring of the leaves and shape of the seed. Although monotypic, the castor oil plant can vary greatly in its growth habit and appearance. It grows well outside and the leaves do not appear to suffer frost damage in sheltered spots, where it remains evergreen. In areas prone to frost it is usually shorter and grown as if it were an annual. The glossy leaves are 15?45 cm long, palmate, with 5?12 deep lobes, and toothed margins. Their color varies from dark green, sometimes with a reddish tinge, to dark reddish purple or bronze, the one I am selling has red leaves. The stems and the spherical, spiny seedpods also vary in pigmentation. The pods are showier than the flowers, the male flowers are yellowish-green with prominent creamy stamens and they are carried in ovoid spikes up to 15 cm long; the female flowers, borne at the tips of the spikes, have prominent red stigmas. Hardiness zone: 9-11, (-5øC/25øF, 4øC/40øF) in winter. This plant requires a well-drained soil and a warm, sunny position. The young plants can be place outdoors only after all risk of frost has past. Fertilizer can be used as needed and the plants watered liberally. The repotting should occur in the spring.
More Information
More Information

| | |
| --- | --- |
| Common name | Castor Oil Plant |
| Species | Ricinus communis |
| Germination | Sow the seeds at 6 mm deep in a peaty seed sowing mix at about 22øC. On the other hand, you can sow them in pots inside. The seeds will germinate more quickly and more readily if soaked in tepid water for 24 hr prior to sowing. Ricinus communis seeds will usually germinate in 15-21 days. Germination can take longer. Be patient! |
| Price View | Price Range |
GERMINATION
Click on More information tab to get germination instructions (may be not available yet).
100% PAYMENT SECURE
We ensure secure payment