Gloriosa Lutea Seeds (Yellow Glory Lily Seeds)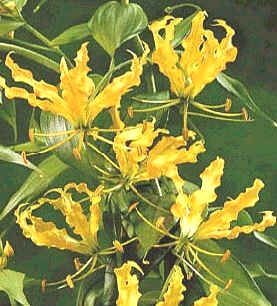 Details
Gloriosa lutea is a native to tropical Africa and Asia. This yellow Gloriosa lily is difficult to find and is a delightful perennial for warm weather gardeners. Known for their ability to grow many feet in a single season, these vines are outstanding for covering lattice or growing through other plants, up to 5-8 feet tall. Gloriosa lutea is a splendid climbing vine that produces 12 or more Lily-like flashy lemon yellow flowers of exceptional beauty. Also suitable for container gardening and they make an outstanding cut flower in arrangements having a long vase life. The foliage is glossy, bright green and oval with tips that often form tendrils. The vines grow from oddly-shaped, long tubers that sprout and travel underground. Hardiness zones 8-11, (5§C/40§F, -10§C/15§F) in Winter. They prefer night temperatures ranging from 60§ to 70§ F and day temperatures at 75§ F or higher with high humidity. Plant in a mixture of two parts rich potting soil, one part builders sand and one part peat moss. They like moist and well-drained soil. Provide a sunny growing area and water regularly. In temperate climats it's best to lift the bulbs for Winter.
More Information
More Information

| | |
| --- | --- |
| Label | Gloriosa lutea |
| Common name | Yellow Glory Lily |
| Genus | Gloriosa |
| Species | Gloriosa lutea |
| Germination | As a houseplant, plant indoors in pots, 1/2" deep, in a mixture of two parts rich potting soil, one part builders sand and one part peat moss. Tubers can also be started indoors in late Winter then transplant to the garden. Place in indirect light and keep soil evenly moist. Once it begins to grow, move into more sun and increase watering. After blooming, withhold water and fertilizer, allowing the plant to go dormant. When the foliage dies down, dig the tubers and store them in peat moss or vermiculite through the Winter. They can also be left in their pots of dry soil until Spring, when they should be replanted in fresh soil. |
| Price View | Price Range |
GERMINATION
Click on More information tab to get germination instructions (may be not available yet).
100% PAYMENT SECURE
We ensure secure payment