Hedychium Coccineum Seeds (Scarlet Ginger Lily Seeds)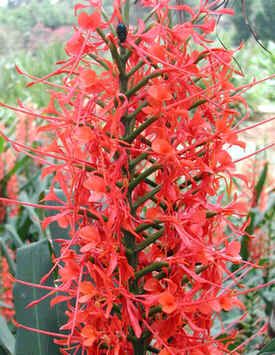 Details
Hedychium coccineum, the Scarlet Ginger Lily, is the most beautiful of the Hedychium gingers. It grows on forest edges and in grassland of mountain areas. It grows up to 5-6 feet tall. The inflorescence is up to at least 25 cm long by 15 cm wide and cylindric. The flowers are slightly fragrant. It developes bright orange-red flower spikes. The long strap leaves are blue-green, smooth-textured and about 30-50 cm long. Hardiness zones 8-11, (5§C/40§F, -10§C/15§F) in Winter. It prefers a warm, frost-free climate although it will grow outside in temperate areas that have light, infrequent frosts. In frost-prone areas, either grow in containers or give Winter protection. For best results, provide a rich, moist, well-drained soil, and with protection from cold winds. It prefers partial shade or partial sun; if kept in shade, it grows taller. It can tolerate strong sunshine.
More Information
More Information

| | |
| --- | --- |
| Common name | Scarlet Ginger Lily |
| Species | Hedychium coccineum |
| Germination | Soak the seeds for 2 hours in hot water. Soaking is beneficial in two ways; it can soften a hard seed coat and also leach out any chemical inhibitors in the seeds which may prevent germination. Sow at 1/2" in pots or trays of moist seed compost. Place in a warm place, and keep at a constant temperature of between (20§C/68§F, 25§C/77§F). After sowing, do not exclude light as this helps germination. Keep the surface of the compost moist but not waterlogged; germination will usually take 2-6 weeks, it can take longer, don't give up. The plant is healthier if grown not too hot, but cooler. |
| Price View | Price Range |
GERMINATION
Click on More information tab to get germination instructions (may be not available yet).
100% PAYMENT SECURE
We ensure secure payment