Nelumbo Nucifera Pink Seeds (Sacred Lotus Seeds)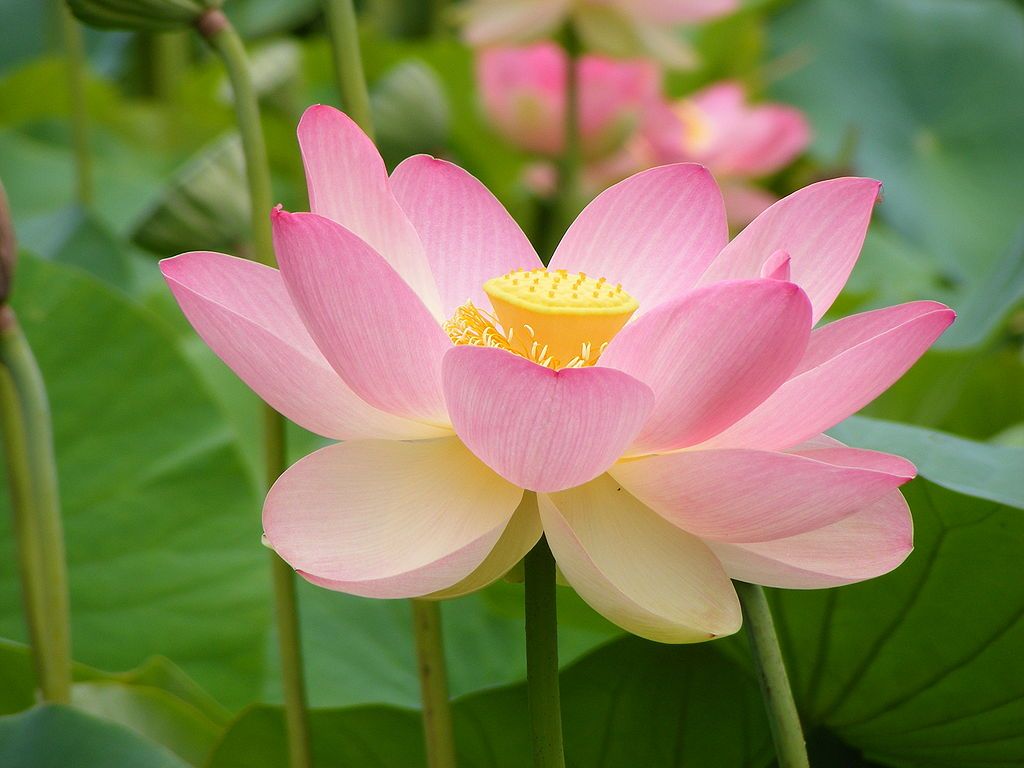 Details
Nelumbo nucifera pink, or the Sacred Lotus, is suitable for bogs and water gardens. An aquatic perennial, originally from Indonesia and India. It grows-up to a height of 4-6 feet depending on the dept of the swamp or creek it is growing in, maximum spread of 9 inches. It can be grown in a pot. Widely cultivated for its large pink flowers. The plant has its roots firmly in the mud and sends out long stems to which their leaves are attached. The big circular leaves are floating at the surface and the flowers above it. The plant has a velvet foliage. The fruits are a conical pod with seeds contained in holes in the pod. When the seeds are ripe, they become loose in the pod. The pod then tips down towards the water, releasing the seeds. The beautiful and fragrant pink flower opens in the morning and petals fall in the afternoon. These flowers can be 9 inches across. The pink Sacred Lotus blooms year around in tropical regions, or late Spring if you experience a Winter. The flowers, seeds, young leaves and rhizomes are edible, while the big leaves, 2 feet in diameter, are used to wrap food in. Hardiness zones 4-10, (-32øC/-25øF, 1øC/35øF) in Winter. Winter hardy as long as the roots do not freeze. Loves full sun but can grow in partial shade. It need very high moisture. The Lotus grows best in rich soil with 1/2 inch of rinsed gravel on top of the soil. The pot is completely submerge in calm freshwater.
More Information
More Information

| | |
| --- | --- |
| Label | Nelumbo nucifera |
| Common name | Sacred Lotus |
| Species | Nelumbo nucifera |
| Cultivar | Pink |
| Germination | First, scarify the seeds until there is a small amount of white color showing and place the seeds in water. The American Lotus seeds should swell over the next few days and sprout within a week, growing quickly for the next couple of weeks. There are enough nutrients in the Nelumbo lutea seeds to support the plant for 30 days, but it should be planted as soon as practical. Plant in a pot with plenty of room for root growth below and around the seeds, at least 4 inches and place in water with the top of the pot between 12 and 18 inches below the surface of the water. Leaves will appear within a month and the plant should bloom in the second growing season. |
| Scarification / Stratification | Seed coats may be so hard that they are impermeable to water. They need to be scratched or broken using a knife or sandpaper, in order to germinate. Chip the seeds with a sharp knife or make a few swipes with a sharp edged file or use sandpaper to allow moisture being more readily absorbed. |
| Price View | Price Range |
GERMINATION
Click on More information tab to get germination instructions (may be not available yet).
100% PAYMENT SECURE
We ensure secure payment