Cyrtostachys Renda Seeds (Cyrtostachys Lakka Seeds, Lipstick Palm Seeds)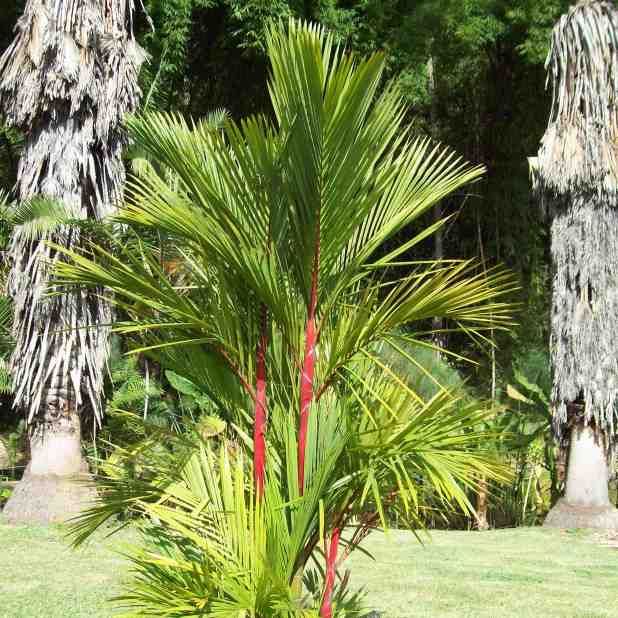 Details
Cyrtostachys renda, the Lipstick Palm, is native of Asia. It grows well in subtropical and tropical regions. This palm will grow to about 3 meters high or smaller if grown in pot. It is a beautiful and very different looking palm, one of the most colourful. The trunk is made up of many smaller stems each growing close to each other. They turn to a bright red early in age. The stems are slick and smooth. Its colour is so unique for a palm tree that it gave the plant its name. The palms are feather-like and green-yellowish to green. The flowers are hermaphrodite. The palm blooms all year long in tropical climates. Hardiness zone 11 (4§C/40§F) in winter. The Lipstick Palm is very sensitive to temperatures under 10§C/50§F. The average conservation temperature should be about 28-36§C. Idealy, it should never go under 20§C. The palm?s needs make it difficult to grow in climates other than tropical or subtropical. The Lipstick Palm can be grown in a hot glasshouse or veranda and inside in winter. It requires a lot of light and humidity. It needs to be watered regularly. Place it under a partial sun or a good source of light.
More Information
More Information

| | |
| --- | --- |
| Common name | Lipstick Palm |
| Species | Cyrtostachys renda |
| Germination | Fill the bottom of your pot with gravel and add garden soil. Top it with a good layer of humus. Plant your seeds at « inch deep. In summer, keep soil humid, but make sure to place a plate under the pot to eliminate the excess of water. Reduce watering in winter. Give your young plant fertilizer twice a month. Place-it under a good source of light, but no direct sun. Prevent the plant from being exposed to a temperature below 17§C during growth. Growth should be pretty fast. Germination could take up to three months, but it could be more, don?t get discouraged. |
| Price View | Price Range |
GERMINATION
Click on More information tab to get germination instructions (may be not available yet).
100% PAYMENT SECURE
We ensure secure payment