Phoenix Rupicola Seeds (Cliff Date Palm Seeds)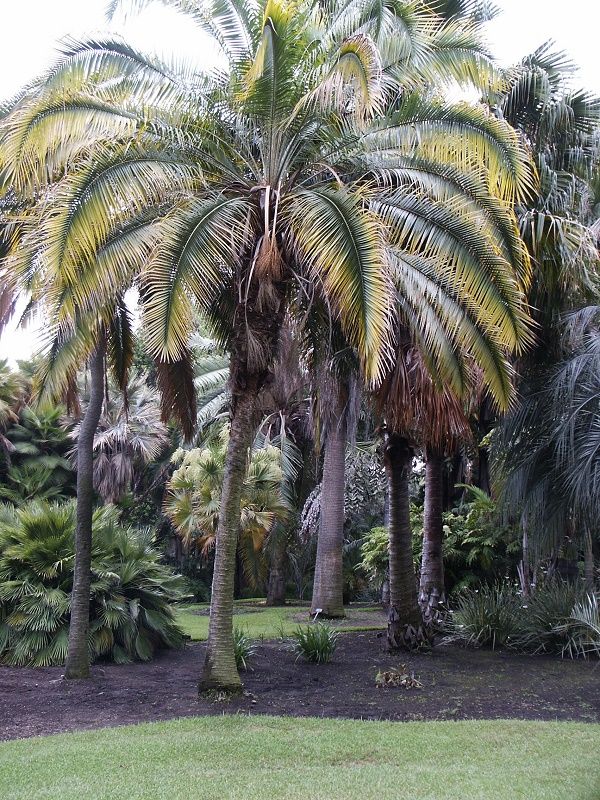 Details
Forget everything you have ever thought about Phoenix palms. This stunning species, from the foothills of the Himalayas has little in common with its relatives from drier climates, and, with its long, elegantly arching, shiny green fronds and smooth, slender trunk; it actually resembles a coconut palm! Phoenix Rupicola is easy and fast growing, suitable for tropical as well as temperate climates, and will even tolerate moderate frosts. In cultivation, Phoenix Rupicola has become hugely popular in recent years. This is the 'new' Phoenix that everyone is currently talking about! In obscurity for a century, this species really is the most elegant of all the Phoenix palms and impossible to confuse with the rest of the genus. These plants are bound to be extremely popular in the future. For the grower this palm is perfect, with its fast and easy germination, tough and easy nature, rapid growth and compact size. The cliff date palm, growing to only about 20 - 25 ft (6.1 - 7.5 m) and 16 feet wide (4.8 m), is smaller than the more commonly planted Canary Island and true date palms. The palm canopy contains about 100 pinnate leaves, with 35 cm leaflets on 50-60 cm pseudo petioles, which are held at right angles to the horizontal. They grow to about 10 ft (3.1 m) long and are bright green, arranged in plane on the stem which gives the fronds a flat appearance that, combined with their unique natural curving, arching and twisting form, results in a very graceful palm. This is one of the few Phoenix with no vicious leaf-base spines. There are still some soft spine-like modified leaves, but they are soft and flexible, without a sharp tip. It is a tidier tree with a neater appearance as the trunk is clean, not retaining the old leaf bases (except at the crown) like other date species. As the leaves die they are shed leaving a smooth trunk ringed with narrow scars at the point of attachment. This palm has a knobby tan trunk with a brown fibrous crown. Around spring time, dioecious flower stalks appears among the leaves. They are very discreet and produce an oblong fruit, yellow to orange drupe of about 0.75 in (1.9 cm) long, containing a single large seed with a thin layer of edible flesh. Surely, the fruit is not this palms best quality. Hardiness zones : 9 ? 11 (-5c/25f, 4c/40f). Phoenix Rupicola is cold hardy to around 24 F. The cliff date palm is probably one of the easiest Phoenix species to grow (although less hardy than some of the others). It is not picky as far as light, soil or moisture although it does require good drainage. The other Phoenix species are easier to find but the Cliff Date is definitely worth seeking out to grow or just to enjoy seeing. This palm also makes a great container specimen when young and can thrive in confined areas in urban landscapes.
More Information
More Information

| | |
| --- | --- |
| Common name | Cliff Date Palm |
| Species | Phoenix rupicola |
| Germination | If the Phoenix Rupicola seeds appear dry, soak them in warm water for 1-3 days. For sowing, use peat, coco fiber, or similar media. It should be moist but not wet. Mix the seeds with the moist compost and place into a clear plastic (Ziploc) bag, and seal it. Keep them at a temperature around 25-30 C. No light is required for germination. Check weekly for signs of activity by looking for white roots through the plastic. Ensure that the medium does not dry out. The seeds can take anywhere from 2 weeks to 2 years (or more) to germinate; however, most will sprout after 4-6 weeks. After the seeds have sprouted, plant each in a tall, narrow pot using a well-drained medium and place in ample light, but not in full sun. Aim to keep the soil moist (but not wet) at all times, feed and pot on as required. Germination can take longer. Be patient! |
| Price View | Price Range |
GERMINATION
Click on More information tab to get germination instructions (may be not available yet).
100% PAYMENT SECURE
We ensure secure payment