Solanum Mammosum Seeds (Nipple Fruit Seeds, Cows Under Seeds, Titty Fruit Seeds, Apple of Sodom Seeds)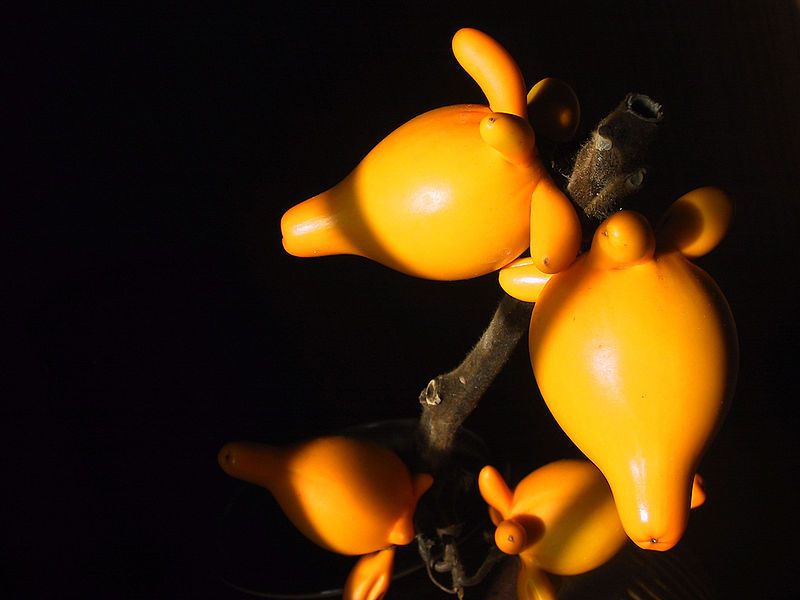 Details
The Solanum mammosum, known as nipple fruit, titty fruit, Cow's Udder, Apple of Sodom or Pichichio (in Costa Rica), is an annual to perennial plant in the Solanaceae family. Native of South America, but has been naturalized in the Greater Antilles, Central America and Caribbean. This is a bushy shrub that grows up to 3-6ft. It is a small, shrubby erect perennial that can be grown as an annual. The nipple fruit is related to the naranjilla and tomato, and the plant looks similar. Usually grown as an ornamental for its unique resemblance to a human breast fruits. Fruits are fleshy, poisonous, and contain several seeds. They are about 3-5" long and are grown as ornaments, for their odd shape. The Solanum has large velvety leaves with purple veins and furry hair, along with prominent spikes. The branches and stems are also dotted with firm, sharp thorns. The purple-pink flowers develop during spring and will bloom in late summer or early fall.The flowers are followed by the waxy, yellow colored fruit ripening a few months later. Hardiness: 9-11 (-5øC/25øF, 4øC/40øF) in winter. Water regularly, but do not over water. The plant is not too particular about soil requirements. Likes full sun. This plant will grow in any neutral fertile soil.
More Information
More Information

| | |
| --- | --- |
| Common name | Nipple Fruit |
| Species | Solanum mammosum |
| Germination | To sow outdoor, you should wait after the last frost. When you sow inside, put the seeds in a damp paper towel and place it in a plastic bag. Put it where the light is bright and keep the temperature around 25øC for about 7 to 14 days. As soon as the seeds germinate, prick them out and sow them using well draining soil mixture plant at 1/2" depth. Keep them warm and the soil damp. Once they reach a good size, you can plant them outside. The plant is not too particular about soil requirements. |
| Price View | Price Range |
GERMINATION
Click on More information tab to get germination instructions (may be not available yet).
100% PAYMENT SECURE
We ensure secure payment