Bauhinia Purpurea Purple Seeds (Purple Orchid Tree Seeds)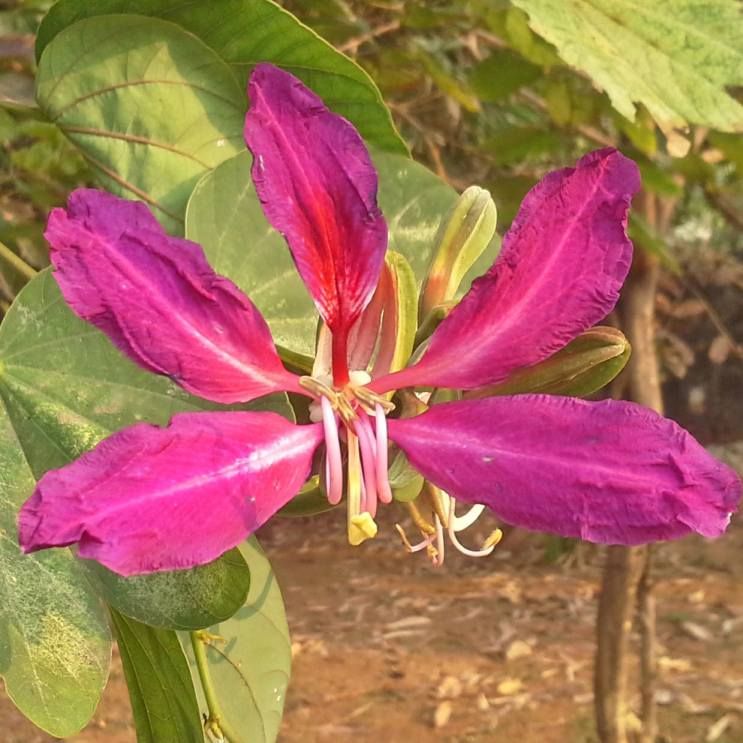 Details
Bauhinia purpurea purple, the Purple Orchid Tree, is a tropical shrub or small tree growing up to a height of 6 to 9 meters with a spreading habit. It may be grown indoors with warmth and bright light and kept pruned to a small size. It is fast growing. It is native of Pacific ocean Islands and naturalized in tropical America. This is a small tree with smooth grey-brown bark. The branches have thorns. The green leaves are 5 to 10 cm across and cleft almost to the middle, giving the leaf the shape of a hoof print. Their characteristic twin lobed leaves give them a definite tropical look. Pruning is necessary to keep the structure of the plant strong. This beautiful variety develops striking purple orchid-like flowers with red or blue blotches. The flowers bring with them a delightful fragrance. The petals are spreading, each about 2.5 - 4 cm long. The plant blooms from September through November. The flowers are followed by pods maturing in the fall. Seeds are in pea-like brown pods, which may be 15 to 30 cm long. Hardiness Zones 10-11, (1øC/35øF,5øC/40øF) in winter. It is hardy to drought and moderate frost, but may need protection from frost in the first two or three years after planting. Use sandy well drained potting soil. Grow in full sun and procure average water.This plant is known to resist average periods of drought or cold. It is easy to cultivate and requires little attention once established.
More Information
More Information

| | |
| --- | --- |
| Common name | Purple Orchid Tree |
| Species | Bauhinia purpurea |
| Germination | Bauhinia is easily propagated from seed. First, you can scarify the seeds, but this is not a must. Sow the seeds 1-2 cm deep in sandy well drained potting soil, placed in a warm position and kept moist, not soaking wet. Germination should occur within 3-4 weeks but it can take longer, don't give up. The process can be speeded up by soaking the seed overnight in hot water. |
| Scarification / Stratification | Seed coats may be so hard that they are impermeable to water. They need to be scratched or broken using a knife or sandpaper, in order to germinate. Chip the seeds with a sharp knife or make a few swipes with a sharp edged file or use sandpaper to allow moisture being more readily absorbed. |
| Price View | Price Range |
GERMINATION
Click on More information tab to get germination instructions (may be not available yet).
100% PAYMENT SECURE
We ensure secure payment