Protea Scolymocephala Seeds (Protea Seeds)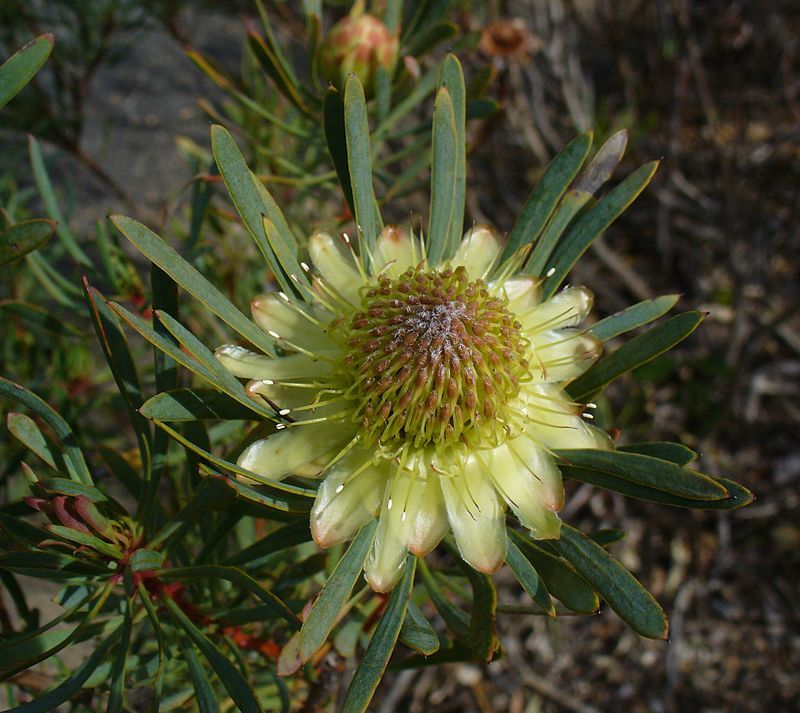 Details
Protea scolymocephala is popular with floral designers. Once abundant in South Africa, now largely extinct in the Southern part of its range, still common, but localised in the North. It grows to 1 meter shrub. It bears small flowers up to 2" with pale green bracts and light pink center. Flowers from July to November, peaking in August and September. The flowers dry very well and are commonly used as focal pieces in flower arrangements. The flowers are hermaphrodite, have both male and female organs. Grey green evergreen foliage with numerous and small linear pointed leaves. On older plants the side shoots tend to be quite short, so to encourage the development of new shoots and long stems, the stems bearing old flower heads should be cut back to ground level. Older plants also tend to become woody and should be cut back to ground level, where they will sprout again from the thick underground rootstock. Hardiness zone 8, (-10øC/15øF) in Winter. Not well suited to very dry areas or regions with very severe frost or to hot humid conditions. Must grow in a sunny, airy position. It can be potted or be grown successfully as a garden plant in the right type of soil. Likes acid sandy soil. Mixtures of 25% to 50% peat moss with the balance being polystyrene or perlite has given good results. Relatively low concentrations of nutrients are required for normal growth of Protea. Good soil drainage is the most important requirement for Protea production. It requires a moist soil. Those plants are very sensitive to nitrates and phosphates in the soil, these can prove toxic even at moderate levels. When fertilizing, use a product which contains no phosphorus. Plants may also suffer from magnesium deficiency. Grow with a pH of 5.0 - 5.5.
More Information
More Information
Common name
Thistle Protea
Species
Protea scolymocephala
Germination
Smoke Seed Primer is ideal for treating seeds of Protea. You can purchase this in the Smoke Seed Primer category. You can also soak the seeds in hot water for a couple hours.

Many wildflower seeds are dormant and need very specific conditions for germination. The smoke seed primer solution contains a combination of natural substances that overcome dormancy and stimulate seed germination.

Germination requires 1 to 3 months at approximately 18ø-20øC. Germination can take longer, don't give up.
Price View
Price Range
GERMINATION
Click on More information tab to get germination instructions (may be not available yet).
100% PAYMENT SECURE
We ensure secure payment