Puya Alpestris Seeds (Sapphire Tower, Bromeliaceae Seeds, Bromeliad Seeds)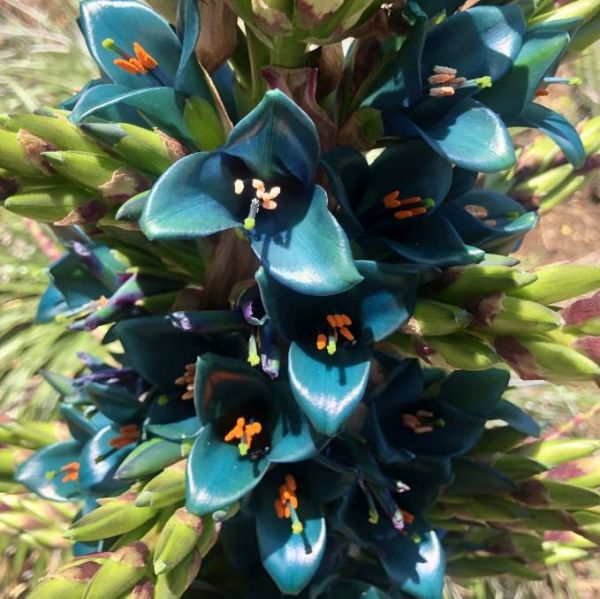 Details
Puya alpestris is better known as the Sapphire Towers. This pineapple relative is from the Bromeliaceae family. Native of Chile. Great plant to attract hummingbirds. For several years the clump will gradually enlarge until it is about 2 feet tall. Usually by this time several pups have started. Puya alpestris is absolutely amazing. It doesn?t form an edible fruit but the flowers will have you salivating. The prickly arching leaves are a show themselves, 4-5 foot tall rosette of curving, spiny-margined, light green leaves that are silver-gray beneath. Leaves are 1-2 inches wide at their base and 2-3 feet long. In the spring Puya alpestris produces this Sapphire tower of blooms. This is a most extraordinary color with the deepest sapphire blue and a green overtone. The flower spike is about 6? tall and the branches have flowerless tips that act as perches for hummingbirds that pollinate the flowers. Hardiness zone: 9 -11, (-5øC/25øF, 4øC/40øF) in winter. Puya alpestris is an evergreen that is drought tolerant with low water needs. Grow in full sun or part shade, can stand temperatures up to 100øF. Water moderately whenever the soil is about 2/3 dry down where the roots are. Avoid letting the soil completely dry out, but don't let it stay soggy either. Also keep them fairly dry during the winter, unless temperatures are above freezing. They will bloom the soonest if protected from frost.
More Information
More Information

| | |
| --- | --- |
| Common name | Sapphire Tower |
| Species | Puya alpestris |
| Germination | Puya alpestris is easy to germinate. Any small containers will do. For the soil use 1 part high-quality potting soil and 1 part perlite, mixed well. Fill each container to within 1/2" of the top with soil. Water them so they are moist, not wet. Place 1 or 2 seeds on top, and sprinkle a very thin layer of soil on top - just enough to barely cover the seeds. Spray the top soil with a spray bottle. Put the container in a plastic bag to keep moisture. Place the pots in a spot that's about 65-70 degrees, under a fluorescent bulb, or in bright shade. The seeds should sprout within 3-4 weeks, although allow up to 8 weeks for any slow ones. |
| Price View | Price Range |
GERMINATION
Click on More information tab to get germination instructions (may be not available yet).
100% PAYMENT SECURE
We ensure secure payment