Puya Berteroniana Seeds (Blue Puya Seeds)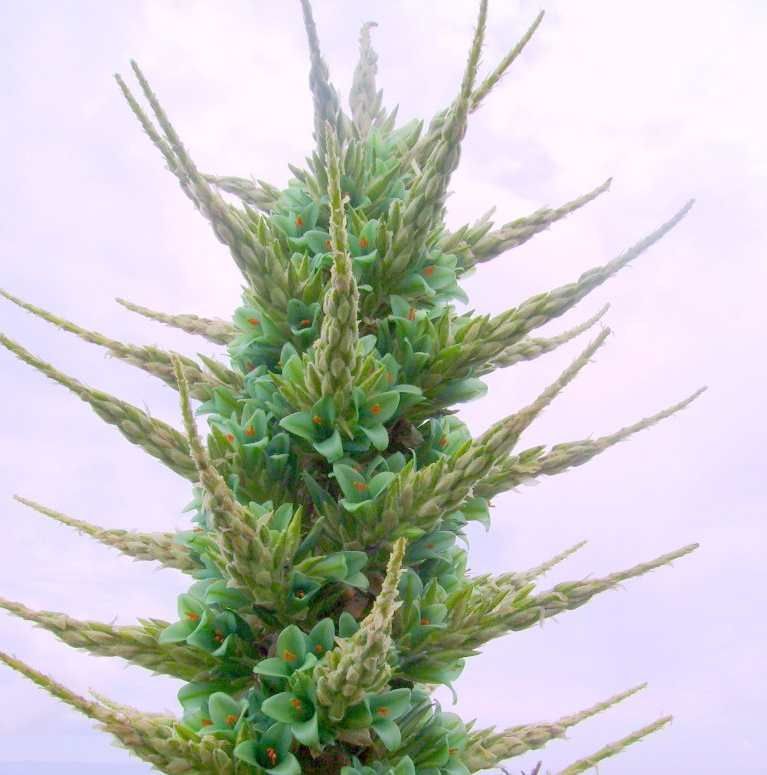 Details
Puya berteroniana, the Blue Puya, is one of the largest genera in the Pineapple Family, Bromeliaceae. Most of its species are concentrated along the Andes mountain range of South America, some at altitudes up to nearly 5000 metres. Very few Puya species have become popular in cultivation. It can reach 6-10 feet tall. The Blue Puya shows full beauty of colour and form in every way and appears to be from another world. The large flower stalks of this plant rise from the masses of curling, silvery foliage, displaying deep turquoise blue flowers, 2" in diameter, and in the centre of the flowers, beaming out, are the highly contrasting orange anthers attracting birds, bees and other insects. Hardiness zones 8-11, (4øC/40øF,-10øC/15øF) in Winter. Puya berteroniana, the Blue Puya, is one of the Southernmost species of Puya and consequently more frost-hardy than many of the other species. They are easily grown outside with no protection in lower zone 8. In colder areas plant in a container. It enjoys very dry, well drained sandy soil. Grow in full sun or part shade. The seed can be directly sown. Procure light and warm temperature and a moist to dry soil. Grow like cacti. Germination is usually fairly quick, 2-4 weeks, maybe more, don't give up.
More Information
More Information

| | |
| --- | --- |
| Common name | Blue Puya |
| Species | Puya berteroniana |
| Germination | Use a mix with good drainage. The seeds grow better with a minimum temperature of 68øF (20øC). Keep the soil lightly humid. Light improve germination. Germinating occurs commonly within 10 days to 3 weeks but may often take longer, months, don't give up. |
| Price View | Price Range |
GERMINATION
Click on More information tab to get germination instructions (may be not available yet).
100% PAYMENT SECURE
We ensure secure payment