Puya Venusta Seeds (Bromeliad Seeds)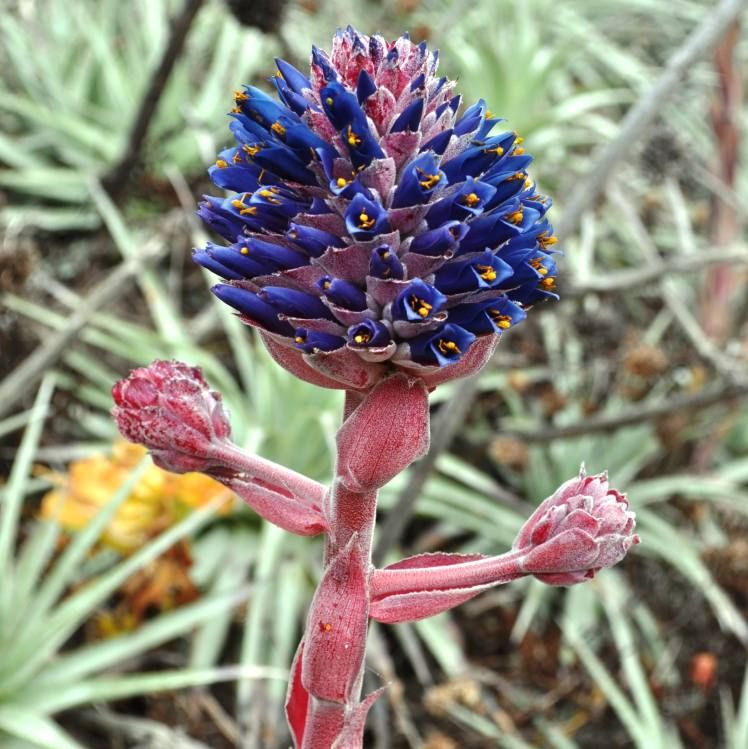 Details
Puya is a genus of the bromeliad familyBromeliaceae. They are native to the Andes Mountains of South America and southern Central America. They are also known as Coastal purple puya. The name venusta means handsome, but in this case it should be magnificent! The epitome of ?ornamental statement? for the larger dry garden or cactus garden! This slow growing, stunning, terrestrial perennial forms gorgeous eye-catching, architectural, compact rosettes (12?-15? tall) of serrated, silvery white succulent, spiny-tipped (pineapple) leaves. They will form large clumps with age. This plant is monocarpic. When mature, the Puya Venusta bears the knock-your-socks-off blooms of metallic- teal blue, funnel shaped, wax-like flowers. They emerge from huge, red pine-cone like clusters, atop red, stiff, upright stems up to 40? tall. They bloom from late winter through early summer. The flowers are so beautiful that they look unreal! This plant is quite unlike anything else you will see in the average garden. Hardiness zones : 8-11, (-10c/15f, 4c/40f). This exceptional plant is easily grown in full sun to part shade in milder climates, although it is certainly one of the hardiest in the entire Pineapple family. These plants will grow in any rich, very well drained, rocky soil. In central Europe this frost resistant member may be tried out in the garden in full sun with protection from winter wetness. Alternatively grow in pots and keep rather dry in winter in a sunny spot at a minimum of some 7øC. They are a perfect companion plant for aloes & agaves. They are hardy to 20ø F. Like all Bromeliads, it is a prolific sucker producer and each sucker lasts for years before dying. The plant has spines or sharp edges so use extreme caution when handling. These Puya are drought-tolerant so they are suitable for xeriscaping. Do try it outdoors, perhaps by a wall, in a sunny, well-drained spot, they might like it.
More Information
More Information

| | |
| --- | --- |
| Common name | Puya Venusta |
| Family | Bromeliaceae |
| Species | Puya venusta |
| Germination | The Puya Venusta is very easy to cultivate. The seeds need to be stratified, so soaked them for 48 hours in tap water (at 12§ C). Then, plant the seeds superficially in a mix of 50/50 of sand/potting medium. Keep at +15§ - + 18§ C and expose them to natural light (sunlight). The germination might start during the first week but generally takes up to 30 days. Once you can handle them, put them in good compost, in individual pots. Germination can take longer. Be patient! |
| Price View | Price Range |
GERMINATION
Click on More information tab to get germination instructions (may be not available yet).
100% PAYMENT SECURE
We ensure secure payment