Rubus Leucodermis Seeds (Blackcap Raspberry Seeds, Western Raspberry)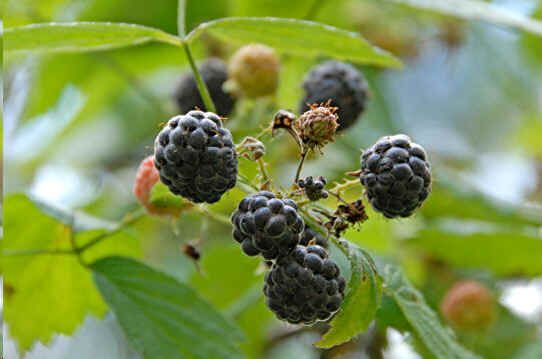 Details
Blackcap Raspberry, Black Raspberry, or White bark Raspberry is a species of Rubus native to western North America, from British Columbia, Canada south to California, New Mexico and Mexico. It is closely related to the eastern Black Raspberry Rubus occidentalis. It is a deciduous perennial shrub growing to 2.5m(7ft) by 1m at a medium rate. A native raspberry? Yes, and it tastes great! The fruit of Rubus leucodermis is 1?1.2 cm diameter, reddish-purple, and dark blue to nearly black when ripe, and can be confused with blackberries. The black raspberry is a very well flavored fruit that can also be dried for winter use. The white arching canes are impressive with their powdery white coating. Great replacement if you desire an edible landscape where you are eliminating invasive blackberries. While the crown is perennial, the canes are biennial, growing vegetatively one year, flowering and fruiting the second and then dying. As with other black raspberries, the tips of the 1st year canes (primo canes) often grow downward to the soil in the fall, and take root and form tip layers which become new plants. The leaves are pinnate, with five leaflets on leaves strong-growing stems in their first year, and three leaflets on leaves on flowering branchlets with white, seldom light purple flowers. A refreshing tea can be made from the leaves. It is in flower in June, and the seeds ripen from July to August. The flowers are hermaphrodite (have both male and female organs) and are pollinated by insects. Hardiness zones: 3-9 (-37øC/-35øF, -5øC/25øF) in winter. It is hardy to zone 0 and is not frost tender. It requires moist soil. It is found in sunny edge; dappled shade. The plants should be fertilized in September. Irrigation should be gradually reduced in September and October to prepare them for winter.
More Information
More Information

| | |
| --- | --- |
| Common name | Blackcap Raspberry |
| Species | Rubus leucodermis |
| Germination | Rubus leucodermis seeds should be soaked in water for 2 days. Sow the seeds in a mix of: 6 parts milled sphagnum peat moss, 1 part perlite, and 1 part vermiculite. Cover the seeds very lightly with the medium. The greenhouse temperatures are maintained at 21 to 25øC during the day for 12 hours and 15 to 18øC at night for 12 hours. Germination is uniform and is usually complete in 2 weeks. The containers must be frequently checked for moisture content. |
| Price View | Price Range |
GERMINATION
Click on More information tab to get germination instructions (may be not available yet).
100% PAYMENT SECURE
We ensure secure payment