Selenicereus Megalanthus Seeds (Yellow Pitaya Seeds, Dragon Fruit Seeds)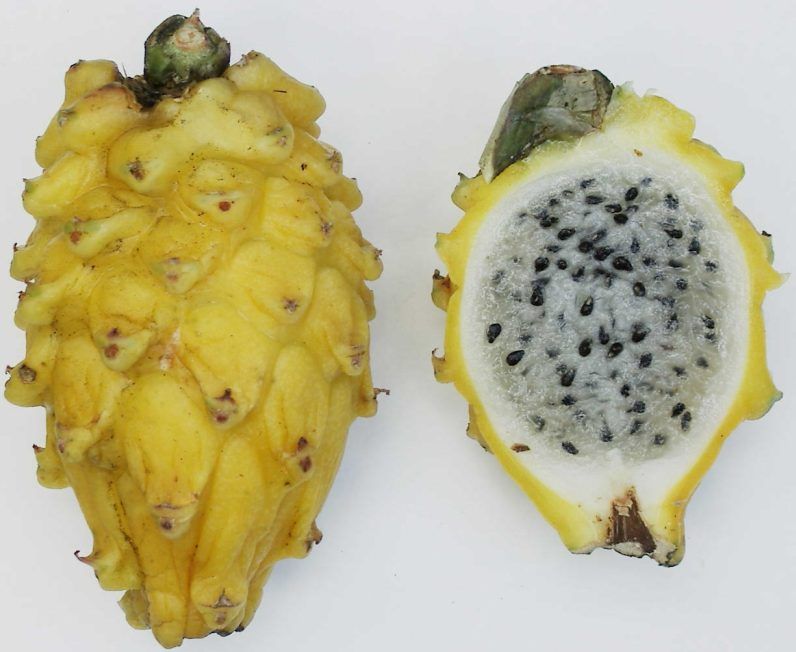 Details
Selenicereus megalanthus or Dragon fruit belongs to the Cactaceae family. Native of Colombia, Ecuador, Peru and Bolivia. A wonderful climbing cactus that grows very large. The cacti are epiphytes or lithophytes, climbing along the tree trunks using air roots. Yellow pitaya needs a trellis system for support if you want the fruits to get to their full size. Their stems may lie along the ground (procumbent), climb (scandent), or hang (pendent). They are often only 1.5cm thick, producing aerial roots. These strongly scented, large, trumpet-like flowers are freely produced in late summer beautiful, large, fragrant, cream-white flowers. Blooms from June to October. Their flowers are nocturnal and funnel-shaped, and about 32-38cm long. The flowers are followed by delicious, refreshing fruit in 4-8 weeks. The Yellow Pitaya has an appealing tangy flavor. The fruit has thorns that occur on the fruit itself. They are small to medium, usually weighing 0.5-0.75 lbs. They ripen from late November to February, and it is certainly among the sweetest and tastiest of all the dragon fruit. This variety is self pollinating, and it will set fruit on its own. Hardiness zones: 10-11, (1/35, 4/40). The Pitaya is easy to cultivate, and a fast growing plant. Will grow in semi-shade, but for best results put it in full sun. Extra light in the early spring will stimulate budding. Keep drier in winter at a minimum of some 12øC.
More Information
More Information

| | |
| --- | --- |
| Label | Selenicereus megalanthus |
| Common name | Yellow Pitaya |
| Species | Selenicereus megalanthus |
| Germination | Sow Selenicereus megalanthus seeds on the surface of a peaty seed sowing mix at about 25øC. Cover seeds only slightly with soil, and place the pots in a very sunny place. The seeds will usually germinate in 5-180 days, but even under good conditions germination may be erratic. Carefully transplant the seedlings as soon as they are strong enough. |
| Price View | Price Range |
GERMINATION
Click on More information tab to get germination instructions (may be not available yet).
100% PAYMENT SECURE
We ensure secure payment