Tritoma Uvaria Seeds (Kniphofia Aloides Seeds, Red Hot Poker Seeds)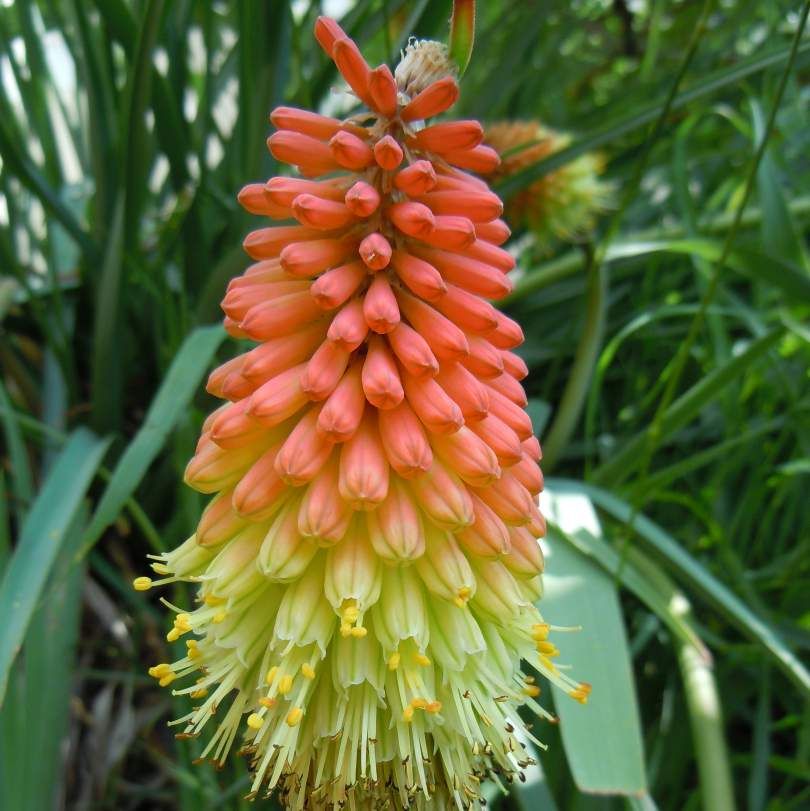 Details
Tritoma uvaria, also nemed Kniphofia Aloides, the Red Hot Poker, Flame Flower, or Poker Plant is an evergreen perennial growing to 4 feet tall by 2 feet. Tritoma uvaria is native to South Africa. It developes upright clusters of many tubular flowers, 1 to 2 inches long, borne on tall stems that look like pokers. The leafless stems which arise from a rhizomatous plant, from August to September. It flowers from the bottom upward, and the bright orange flowers fade to yellowish green as they senesce, resulting in a two toned spike with orange flowers at the top and yellowish ones below. The flowers are hermaphrodite, they have both male and female organs. It is in leaf all year. Leaves in basal rosette, linear, grasslike, to 40 cm long, 2 cm broad, partially folded, appearing entire but with minute, sharp teeth along the margins. Hardiness zones 5-9, (-26øC/-15øF,-5øC/25øF) in Winter. Not fully hardy in colder Winters, it is best to give the plant some protection in the Winter. The plant prefers light, sandy and medium, loamy soils. It prefers a well drained soil, with plenty of moisture in Spring and Summer. Likes sun or afternoon shade. The plant can tolerate maritime exposure.
More Information
More Information

| | |
| --- | --- |
| Common name | Red Hot Poker |
| Species | Kniphofia uvaria |
| Germination | The seeds need 6 weeks of cold stratification at 40øF, prior to planting. Cover seeds lightly by 1/4" soil. Germination normally occurs in about 21-28 days at 70-75øF, but may take up to 3 months. If sown early it will flower the same year, but peak at the 3rd year. |
| Scarification / Stratification | This will break their dormancy. It creates a cold and moist environment for the seeds. Mixed in seeds with slightly moistened vermiculite or peat, only damp in a ziplock bag. Close zip bag shut and store it in the salad crisper compartment of your refrigerator. If any seeds begin to sprout during the cold stratification, simply remove the seed and plant. |
| Price View | Price Range |
GERMINATION
Click on More information tab to get germination instructions (may be not available yet).
100% PAYMENT SECURE
We ensure secure payment